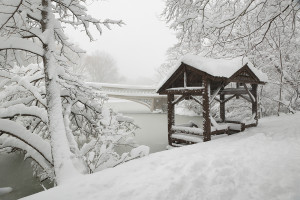 Every so often, nature reminds us to slow down.
Here in the mid-Atlantic, we don't get a lot of snow. In recent years, we've been particularly snow-starved.
This year has more than made up for that. Just one snowfall – Snowzilla – gave us a record amount of snow.
Being snowed in has reminded me of some mental health maxims I tend to forget in the blur of a busy life.
Sometimes you just have to accept. Highly competent, accomplished people can lose sight of the fact that there are some things beyond control. Blizzards can be seen as Mother Nature's not-so-subtle way of reminding us that sometimes we are not in charge, we cannot always shape everything to our satisfaction, and we just have to go with the flow – or the drifts.
Beauty is everywhere. Except for the times I was out walking the dog in high winds, I was able to find great beauty in all the weather. The snow acts as a sound buffer, making the street quiet and serene. Sunshine on a yard full of snow is simply glorious. Icicles hanging from the roof reflected light in magical ways. There is beauty around us all the time; we just need to take the time to see it.
Not every moment has to be filled. Yes, I had lots of work to do, and the computer and electricity to get it done. But I also baked brownies, took the dog for longer walks, snuck in a nap or two, and spent some time just looking out the window.  It was a little strange at first, but after a little while it began to feel very good.
Solitude is a necessity, not a luxury. But people are great. I love being alone, so didn't suffer cabin fever. The quiet helped me recover from 10 days on the road, allowed me to think bigger-picture about my work, and gave me room to rat around in my pajamas as much as I wanted to. But it was really nice to chat with neighbors as we shoveled walkways and dug our cars out. And it was great, when I finally was able to go out, to be around people, eavesdrop at the checkout line, and enjoy "the world" again.
I hope your experience of the past few weeks has provided at least a few moments of quiet, and time to appreciate those closest to you.
What was the best thing about Snowzilla? Drop me a line at coach[at]alexcarter[dot]com.
I'm Taking New Clients
I have a couple of openings in my schedule for new coaching clients. If you are a nonprofit leader, or trying to become one, and would like to develop your leadership from a strengths-based perspective, drop me a line at coach[at]alexcarter[dot]com and we'll talk about how we can work together to make you the leader you've always wanted to be.